7 Amazing Colors All-in-one!
The Porefect LED Beauty Shield Pro is our newest lightweight at-home wearable hands-free skincare technology now with 7 different LED colors. Enjoy the benefits of LED Photon Light Therapy at home, at work, wherever you want a quick beauty boost with zero downtime.
LED therapy was initially invented by NASA decades ago to help in the growth of plants and vegetables, and Navy seals started using it in the 90s to speed wound healing. Nowadays, this magical miracle worker is most commonly used by our favorite aestheticians to regenerate skin cells to slow aging and treat acne. But just what is the purpose of using different colors—or wavelengths—of light?
LED light doesn't contain UV, so it's totally safe, with minimal to no adverse effects. It's non-invasive, and there's no downtime or redness. In fact, quite the opposite—you can usually rely on a session for an immediate glow. 
Benefits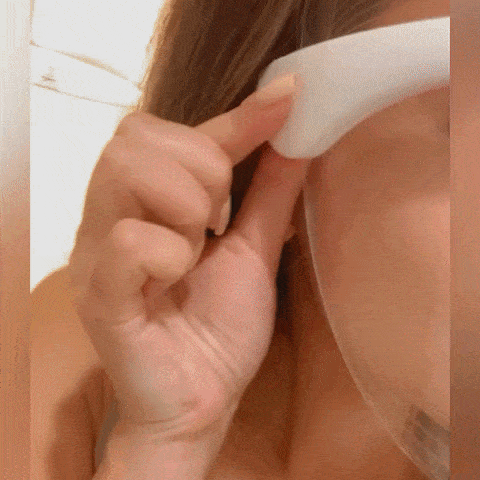 LED or "light-emitting diode," works by emitting infrared light (causing heat) in specific wavelengths/spectrums, which have different skincare benefits. It has been shown to speed healing, boost anti-aging properties, and kill bacteria. Utilizing the advanced technology that is LED.
Our Porefect LED Beauty Shield Pro is one of the first completely hands-free at-home LED Treatment that does not obstruct your view or require you to sit in place, plugged-in, for a length of time. After cleansing your skin, LED Lights help to optimize your favorite serums, moisturizers, and toners. By stimulating blood flow in the treatment area, the shield helps to rejuvenate dull/tired skin exposed to environmental factors. Not limited to just one setting, the LED Photon Shield allows the wearer to enjoy 7 amazing LED colors of skin therapy.

RED Light Therapy: (Wavelength of 630nm) Used for its anti-aging benefits because of its ability to stimulate collagen and elastin production. Also believed to reduce cytokines, which cause inflammation. 
BLUE Light Therapy: (Wavelength of 470nm) Used for its anti-bacterial benefits and therefore used in acne treatment. This specific wavelength stimulates the production of oxygen radicals that kill P. Acnes bacteria (the acne-causing bacteria), without damaging the skin.
AMBER Light Therapy: (Wavelength of 590nm) Used to flush waste from the skin, boost lymphatic flow and increase cellular growth, aiding in cell-turnover, or production of new skin cells.
GREEN Light Therapy

: (Wavelength of 520nm) This color is effective in neutralizing, balancing and calming your skin. It can also help with oil secretion to help balance the water and oil of the skin.
Purple Light Therapy: (Wavelength of 440nm) The combined efficiency of the red and blue light, this wavelength is used specifically for the repairing and helping of acne scars. 
CYAN Light Therapy: (Wavelength of 195nm) This color helps increase the skins cell energy which helps promote metabolism and skin brightening.
Laser Light Therapy: (Soft Light) This color is effective in penetrating and accelerating the active tissue of the skin, which helps with brown aging spots and sagging skin.     

The red light is the same red glow found in infrared saunas and is used to treat the outer layer of the skin, aka our epidermis. Our skin actually absorbs the light like a product, and it helps to stimulate collagen production, making red light the go-to for anti-aging effects like minimizing fine lines and wrinkles.
But that's not all that the red wavelength can do. This stimulation of the epidermis also can have inflammation-reducing effects and can boost circulation. This is why it's also great for healing, whether that is a wound elsewhere on the body, or skin that may have been picked or suffered an outbreak of any kind.
Blue light is best for acne-prone skin and existing, active breakouts because it targets the sebaceous oil glands and destroys acne-causing bacteria. It can also help decrease scarring from breakouts you've, ehem, picked.
Amber light handles the cleanup. It helps with age spots and melasma. It's detoxifying and protective, as it helps to flush waste from the skin and the delicate channels just under our skin that we can blame for swelling and puffiness. Amber light works to boost lymphatic flow and increase cellular growth, aiding in cell-turnover, aka the production of new skin cells.
How To Use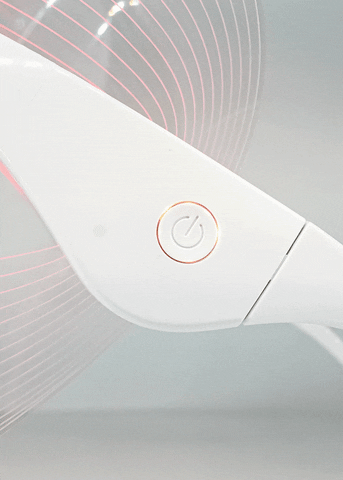 Before you begin, ensure your shield is charged using provided Micro-USB cable (est. 30mins)
Cleanse skin and apply your favorite porefect skincare serums, moisturizers, and toners
Place the LED shield comfortably over your face
Press the power button located on the left side of the device to start your LED therapy session 
To change your light source, press the power button to select between Red, Blue, or Amber depending on desired treatment therapy
The shield is on a self-timer in 15-minute increments. To switch to another color or to use one color for more than 15 minutes, click the shield on again using the power button and select your color of choice.  

To power down press and hold the power button until the light has turned off (about 2-3 seconds)

Wipe off the shield with a gentle cloth or cleansing wipe after each use and store in a cool, dry place

Light Settings
Feel free to enjoy any selection of LED Therapy until the battery runs out. There is no such thing as "over-doing" LED Therapy. To those with light-sensitivity, begin LED Treatment in a well-lit room. For therapeutic treatment, each light setting can be used for a recommended 15-20 minutes.
 

 

FDA, FCC, CE, ROHS certificated to ensure your safety with our products.
WE CARE ABOUT YOUR SKINCARE!
The Pore Company is a Miami based, Veteran Owned, Vegan Skincare brand with customers in over 24 countries around the world and growing every month. The Pore Company sparked a movement in the skincare and beauty world, to make vegan based skincare products a standard in the skincare industry. 
The Pore Company is led by CEO, Michael Ramirez, who is a 9 year U.S. Navy Submarine Veteran who served during the 9/11 era on a Fast Attack Submarine and then at The Office of The Secretary of the Navy under the Honorable Donald C. Winter. Michael started The Pore Company in 2019 as his 12 year old daughter suffered from skincare and acne issue and nothing in the market seemed to work, the products used were either too harsh on her skin or ineffective. This is when Michael knew there was an opportunity in the skincare industry to make products that are not only effective, but also vegan and healthy for your skin at the same time.
Michael has formed one of the fastest-growing skincare brands of 2020 with an aim at producing the most potent vegan skincare formulations on the market that consumers can trust for years to come. The products that are produced by The Pore Company are also cruelty free and and on all skin types.
As part of our way of giving back, we donate 2% of every purchase to the following causes, organizations, or choose a non-profit organization of your choice.
Veterans Support Organizations: Operation Support Our Troops - America, Children of Fallen Patriots Foundation, National Veterans Foundation, Veterans of Foreign Wars Foundation, Naval Submarine League in Connecticut, Veteran Suicide Prevention Association, & Hope for the Warriors

Breast Cancer Awareness Organizations: The Breast Cancer Research Foundation, Breast Cancer Recovery Foundation Inc., Susan G. Komen for the Cure, National Breast Cancer Foundation Inc.
Save The Children 
Our goal is to provide you with only the very best products and customer care in skincare.