100% Natural Jade Skin Rejuvenation Roller
Transformation To Smoother & Firmer Skin Starts Now!
Our 100% Natural Jade Roller is a quick-fix for boosting circulation around your face and calming your face down from any puffiness whilst giving you a fresh, youthful glow. 
The rolling motion helps to lift your face and neck and with from just a few minutes a day, you will see a difference in the texture, tone and clarity of your complexion as well as a reduction in wrinkles. Store in the fridge to really enhance the benefits of relaxing and tightening of your skin.  
Benefits
Reduces puffiness in just a few minutes a day 

Eliminates uneven complexion and revives tired looking eyes 
Leaves your skin plump and rejuvenated 

Allows your skin to absorb skincare products up to 20x deeper

Say goodbye to fine lines and wrinkles 
Makes skin look and feel beautiful

Put it in the fridge for a cooling skin calming sensation
How To Use The Jade Roller
Broadly sweep across the face while working away from the nose area, roll across the forehead, cheeks and neck and finally roll the Facial Roller down along your jawline towards your collar bone. *For enhanced results store your Jade Roller in the Fridge

The Best Pore Cleansing Devices to Play Dermatologist With
12 Best Blackhead Remover Tools For Channeling Your Inner Dr. Pimple Popper
How To Do Your Own Facial Steam If You Can't Get To The Spa
The Only At-Home Pore-Cleaning Devices for Skin That Actually Work
Ultrasonic Skin Scrubber Pro | The Pore Company
WE CARE ABOUT YOUR SKINCARE!
The Pore Company is a vegan skincare brand and online retailer based in Miami, Florida, USA. With Customers in over 18 countries around the world and growing every month. The Pore Company sparked a movement in the skincare and beauty world, to make vegan based skincare products a standard in the skincare industry. 
The Pore Company is led by CEO, Michael Ramirez, who is a 9 year U.S. Navy Submarine Veteran who served during the 9/11 era on a Fast Attack Submarine and then at The Office of The Secretary of the Navy under the Honorable Donald C. Winter. Michael started The Pore Company in 2019 as his 12 year old daughter suffered from skincare and acne issue and nothing in the market seemed to work, the products used were either too harsh on her skin or ineffective. This is when Michael knew there was an opportunity in the skincare industry to make products that are not only effective, but also vegan and healthy for your skin at the same time.
Michael has formed one of the fastest-growing skincare brands of 2020 with an aim at producing the most potent vegan skincare formulations on the market that consumers can trust for years to come. The products that are produced by The Pore Company are also cruelty free and and on all skin types.
As part of our way of giving back, we donate 2% of every purchase to the following causes, organizations, or choose a non-profit organization of your choice.
Veterans Support Organizations: Operation Support Our Troops - America, Children of Fallen Patriots Foundation, National Veterans Foundation, Veterans of Foreign Wars Foundation, Naval Submarine League in Connecticut, Veteran Suicide Prevention Association, & Hope for the Warriors

Breast Cancer Awareness Organizations: The Breast Cancer Research Foundation, Breast Cancer Recovery Foundation Inc., Susan G. Komen for the Cure, National Breast Cancer Foundation Inc.
Save The Children 
Our goal is to provide you with only the very best products and customer care in skincare.
Customer Reviews
Write a Review
Ask a Question
01/11/2021
Ann

United States
Good and bad
It was good for two weeks and then it broke while I was using it in the middle yikes it was rly nice having it though.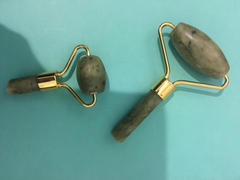 01/14/2021
The Pore Company
Please send an email to use for a replacement at support@theporecompany.com. Real Jade is very fragile and can break with just enough force. We will replace this for you as we want all our customers happy with their purchase.
Lovely product. Packaged very well to protect from breakage. Will order again.